avant-match
LIVE
Rafael Nadal - Donald Young
Wimbledon men - 5 July 2017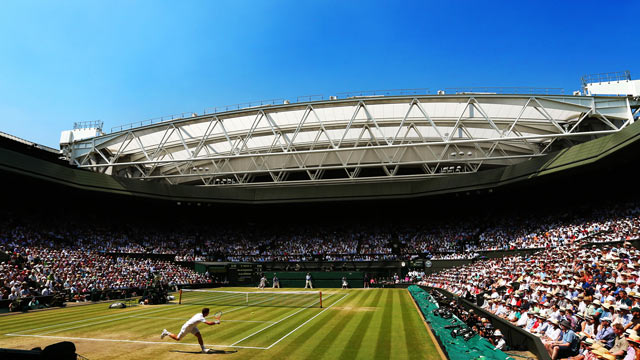 Wimbledon – Follow the Tennis match between Rafael Nadal and Donald Young live with Eurosport. The match starts at 22:00 on 5 July 2017. Our live coverage lets you follow all the key moments as they happen.
Head-to-head: see historical stats and visit our detailed profiles for Rafael Nadal vs Donald Young. Get all the latest on Tennis: fixtures, results and tables.
NADAL 6-4, 6-2, 7-5 YOUNG: Rafa is all over this and it he won't even let Donald Young away with a point in this final game. Nadal progresses to the third round, despite a valiant effort by Young.
NADAL 6-4, 6-2, 5-5 YOUNG: Nadal wants this over with and starts to pile the pressure back on. Someone in the crowd calls out during a rally, which he is less than chuffed by, and the umpire reminds onlookers to be courteous to players. It does Nadal no harm, however as he breaks right back. For the second time tonight, he will serve for the match.
NADAL 6-4, 6-2, 5-5 YOUNG: No one is expecting Donald Young to win this but the crowd are absolutely loving his determination, nonetheless - he's only gone and broken Nadal. We fight on...
NADAL 6-4, 6-2, 5-4 YOUNG: THE TENSION IS UNBEARABLE! Nadal fires into the net and it's a second break point for Young.
NADAL 6-4, 6-2, 5-4 YOUNG: Us Brits really do love an underdog, don't we? Nadal is serving for the match but the crowd go WILD as Young nabs a couple of crafty points as he tries desperately to prolong his time in the tournament - he has break point now.
NADAL 6-4, 6-2, 5-4 YOUNG: He does indeed! Donald Young's mum looks delighted as her son holds his service game with a half-volley down the line. Lovely stuff.
NADAL 6-4, 6-2, 5-3 YOUNG: We are having some technical times tonight, for which I must apologise... To recap... Nadal gets the break he needs, holds and now we are theoretically couple of points away from a win by the Spaniard. Can Young hold on?
NADAL 6-4, 6-2, 3-3 YOUNG: The American puts some pressure on the 10 times French Open champ Nadal, but it's still not enough to break his service game. He hits the net and Nadal holds once more.
NADAL 6-4, 6-2, 2-3 YOUNG: The sun is setting over South West London but Donald Young is hanging on in there. The commentary team cheerily tell us the roof on Centre Court means we could be here a long time yet if Young keeps this up.
NADAL 6-4, 6-2, 2-2 YOUNG: Right, excuse us... A quick personnel change has taken place here... Young is staging something of a comeback if not a rather futile-seeming one. He's not able to break Nadal but he does have a good old shot at it.
NADAL 6-4, 6-2 YOUNG: SET! Young isn't giving this set up easily, battling back to deuce from 40-15 with a neat backhand volley. Nadal places a forehand long to concede a break back point but isn't to be denied as Young nets.
NADAL 6-4, 5-2 YOUNG: Young keeps his end of the bargain, asking Nadal the serve it out question with a tough hold to 15.
NADAL 6-4, 5-1 YOUNG: Rafa Nadal cruising now. Just a game away from a two set lead.
NADAL 6-4, 4-1 YOUNG: BREAK! It's constant pressure from Rafa Nadal on Young's serve now. He forces three break points in a long deuce game against an increasingly frustrated American. The Spaniard has the insurance of a double break as Young nets another volley.
NADAL 6-4, 3-1 YOUNG: Normal service resumed. Nadal races to a love hold with that trademark whipped forehand winner, almost on the retreat!
NADAL 6-4, 2-1 YOUNG: Young mixing it up with a nice serve and volley to give him a couple of game points. Another of the same gets him off and running in the set.
NADAL 6-4, 2-0 YOUNG: Young doing well to stay in the longer rallies you would expect Nadal to boss and he has a glimmer of hope at 0-30. Young approached off a decent forehand but it's right into the slot for a backhand pass. Three points later and the door is slammed shut. Break consolidated.
NADAL 6-4, 1-0 YOUNG: BREAK! Donald Young sporting a Wimbledon cap that you can but from the gift shop, which is nice. Another wicked backhand has Nadal at 15-30 but Young responds with a serve up the tee. A successful challenge brings up break point and Nadal has the immediate break, putting away a backhand volley after Young does well to return his smash.
NADAL 6-4 YOUNG: SET! Rafa scores with successive volleys into the open court and races to a love hold with two big serves. Tall order for Donald Young now.
NADAL 5-4 YOUNG: Young throws in an untimely double fault to go 15-30 down but regroups well to hold with successive forehand winners. Nadal will serve for the set, however.
NADAL 5-3 YOUNG: Nadal opens proceedings with a winning backhand volley on the stretch. Another net approach takes him to 40-0 and an unreturnable serve later, he's a game away.
NADAL 4-3 YOUNG: The racket head speed of Nadal is frightening as he whips an incredible forehand winner into the corner. Another winner puts the Spaniard 0-30 up but the American fights back well, throwing in a couple of aces to hold. Competing well.
NADAL 4-2 YOUNG: Rafa throws in a first double fault of the match and Young takes advantage, whipping a Nadal-esque forehand winner of his own. The American is furious after slicing to the net and Nadal holds a tight game.
NADAL 3-2 YOUNG: That will boost Donald Young's confidence. He holds to love, smashing a ball straight into Rafa's leg. Apology accepted!
NADAL 3-1 YOUNG: Nadal proving he's a deft touch on the volley too. It's a solid hold to 15.
NADAL 2-1 YOUNG: Rafa looks in ominous mood as he rifles a backhand winner up the line. Young scrambles ever so well to cut off a Nadal volley and a cry of 'come on!' greets a winning serve and he holds with an ace.
NADAL 2-0 YOUNG: Young slaps a forehand winner that Nadal would be proud of but the Spaniard hits one even harder en route to consolidating the break.
NADAL 1-0 YOUNG: BREAK! Nadal already unleashing that big forehand but Young is equal to it with one of his own. A double fault and netted backhand concedes break point and Young nets again to gift the game.