avant-match
LIVE
Roger Federer - David Goffin
ATP World Tour Finals - 19 November 2017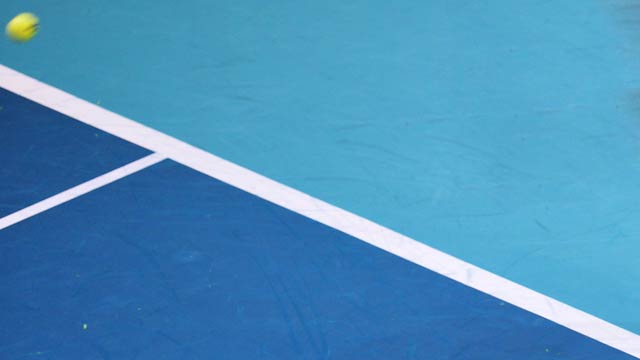 World Tour Finals – Follow the Tennis match between Roger Federer and David Goffin live with Eurosport. The match starts at 01:00 on 19 November 2017. Our live coverage lets you follow all the key moments as they happen.
Head-to-head: see historical stats and visit our detailed profiles for Roger Federer vs David Goffin. Get all the latest on Tennis: fixtures, results and tables.
GAME, SET AND MATCH! - FEDERER 6-2 3-6 4-6 GOFFIN. He's done it! Goffin secures the biggest win of his career to become the first Belgian to reach the end of season tournament's final. He stuns the six-time champion by coming from a set down to win in one hour and 45 minutes. Federer was strangely out of sorts, but take nothing away from the No.7 seed who will now hit the headlines after serving out to 15, firing two aces on the way to glory. It's a first win in seven attempts against Fed Ex - and what a stage to do it on.
FEDERER 6-2 3-6 4-5 GOFFIN. Deja vu as Goffin has a bite at the attempted return winner at 30-30. Federer then shouts in delight as he takes the next point. Now, time for the big one, Butterflies galore for the Belgian as he looks to serve out for a place in the final. No pressure, obviously.
FEDERER 6-2 3-6 3-5 GOFFIN. One away as the Belgian chalks up another perfect hold. Goffin is on the verge of the biggest win of his career. Federer serving to stay in it next.
FEDERER 6-2 3-6 3-4 GOFFIN. Nervy moments for Federer but he stays in touch. Goffin goes for a return winner down the line and misses by a fraction at 30-30. It's a wipe of the brow for the Swiss, who has faced worse situations than this in his career and won. He'll be banking on Goffin getting tight and the clear support he has from the crowd. He'll still believe.
FEDERER 6-2 3-6 2-4 GOFFIN. David is playing brilliantly. Yes, Federer looks out-of-sorts, but Goffin is hitting some wonderful groundstrokes. The No.7 seed and massive underdog claims an easy hold to love. Two more of those and he'll be in tennis heaven.
FEDERER 6-2 3-6 2-3 GOFFIN. Federer rattles through an easy love hold to provide a much-needed riposte. Pressure back on Goffin immediately. Each service game is a massive hurdle for him right now. Will his nerves hold?
FEDERER 6-2 3-6 1-3 GOFFIN. It's a game of misses and errors. Goffin blows an easy forehand to trail 15-30 but Federer returns one in kind and then hooks a backhand narrowly wide. Goffin wastes the chance to finish it with a double fault and is then made to block at the net to fend off BP. The Belgian is the more consistent player though, and he eventually comes through a big test to consolidate.
BREAK! - FEDERER 6-2 3-6 1-2 GOFFIN. Murmurs of real concern in the crowd as Goffin goes for Federer's jugular. A magnificent shot up the line tees up an overhead put-away for double break point. Federer survives one but is caught out by a deep backhand that he can only steer long. The red-hot favourite is in trouble. He's been here before, but needs to rediscover form against an opponent who is currently in the zone.
FEDERER 6-2 3-6 1-1 GOFFIN. The Federer forehand clicks back into sync - and then out again. Goffin goes toe-to-toe with the Swiss in some superb rallies and wins four points in a row from 0-30 to get on the board and level.
FEDERER 6-2 3-6 1-0 GOFFIN. Federer looks to reassert his authority on the proceedings and makes a strong start with a hold for the loss of just the one point.
SET! - FEDERER 6-2 3-6 GOFFIN. All square! No one saw this coming. Huge credit to Goffin as he takes us into a decider. He serves it out to love, sizzling a forehand winner and a fourth ace to seal it with real style and belief.
FEDERER 6-2 3-5 GOFFIN. Serve-out question posed after a minor hiccup halfway through the game. Over to Goffin now. Huge moment for him.
FEDERER 6-2 2-5 GOFFIN. Le Goff comes under pressure from 30-0 up and needs to fend off a break back point. Federer helps him out with a 15th error off the forehand and the Belgian takes full advantage of the reprieve. He's one away from taking this to a decider.
FEDERER 6-2 2-4 GOFFIN. A beast of a first serve keeps Federer in the frame after a super return from Goffin and a glaring miscue off the Swiss' backhand gave the Belgian a foothold in the game, albeit briefly.
FEDERER 6-2 1-4 GOFFIN. Gritty work from the No7 seed. He sees a 40-15 lead disappear as Fed makes deuce with a crushing, deep forehand winner. It's a chance for the Swiss to up the ante, but Goffin refuses to give up his advantage. The Belgian is getting the benefit of some malfunctions from the Maestro and stays on course.
FEDERER 6-2 1-3 GOFFIN. If you blinked you probably missed that. Fed blitzes his way to a perfect hold in a matter of seconds.
FEDERER 6-2 0-3 GOFFIN. That really is superb from Goffin. He consolidates with a clinical love hold. A fantastic response to his first-set humbling - but can he maintain it? It's a tall order.
BREAK! - FEDERER 6-2 0-2 GOFFIN. Wow! Not one person inside the O2 was expecting that - and that includes Goffin. He makes a point of trying to remain competitive and pushes Federer to deuce. The Swiss stays calm but perhaps needed to make use of an extra gear as two corking winners from the Belgian see him pull off an unlikely break. A match-changer or a red rag to a bull?
FEDERER 6-2 0-1 GOFFIN. Solid response from Goffin. He waves another backhand-down-the-line winner from Fed goodbye, but responds at 30-30 with an exceptional stun volley to neutralise Federer's attempted pass. He's on the board.
SET! - FEDERER 6-2 GOFFIN. That was emphatic. Real consistency on the serve from FedEx as he serve out the opener to love, finishing it off with an ace. It's taken just 33 minutes. Hard to see any new tactic in play from Goffin and it's going to be a case of how many games he can win rather than whether he can truly trouble Federer.
FEDERER 5-2 GOFFIN. A slice drop shot completely bamboozles Goffin as Federer works his way towards a set point with more majestic tennis. The breadstick seems inevitable, but the Swiss wildly miscues and allows Le Goff to wriggle his way to a tidy hold.
FEDERER 5-1 GOFFIN. That's a classy game to love. The Swiss is enjoying himself now. He lashes down an ace, produces a majestic volley and then concludes with a Pete-Sampras-style smash.
BREAK! - FEDERER 4-1 GOFFIN. A quite sublime backhand winner down the line leaves Goffin completely stranded and racks up triple break point. The No.7 seed saves two, but Federer unloads the same backhand shot to seal a double break of serve. Hard to see what Goffin can do to stop this being a procession for the Swiss.
FEDERER 3-1 GOFFIN. Federer doing just enough. The Swiss veteran's radar is going askew on occasion, but he ups the temp at 30-30, finishing the game off with a dismissive crosscourt backhand winner.
FEDERER 2-1 GOFFIN. Le Goff benefits from some cheap errors from Federer to earn a morale-boosting hold to love.
FEDERER 2-0 GOFFIN. FedEx nowhere near full throttle but already looks to have too much in his arsenal for Goffin as he consolidates after a mini glitch at 40-15. The Belgian battles to deuce but two big serves put paid to any optimism he may have felt.
BREAK! - FEDERER 1-0 GOFFIN. Federer nonchalantly cracks a backhand winner down the line to put Le Goff on the back foot immediately. The Belgian fires a crosscourt forehand long to offer up two break points, but the No.7 seed suddenly finds his service rhythm to make deuce. He finishes the game with two aces under his belt, but still comes unstuck as Federer finally breaks his resistance by converting on his fifth break opportunity.
14.12
It's time. Goffin to serve first with a place in the 2017 end-of-season finals at stake.
This is Federer's 14th semi final in 15 appearances at the end-of-season finals. And if that isn't impressive enough, this year he made it through the round robin with a perfect record for the 10th time. If he gets past Goffin this afternoon it will be his 11th final. Incredible longevity from the man many believe to be the GOAT.
Goffin: "I've never found a key to beat Roger. Honestly, I don't know what to do... But I'm going to try something, something different, something that I've never done in the past. I will try to do my best to play a better match than in Basel."
HEAD-TO-HEAD: Federer owns the match-up 6-0. Goffin has only ever taken two sets off the Swiss and was demolished 6-1 6-2 in their most recent meeting on the indoor courts of Basel a few weeks back.
Hello and welcome to LIVE updates of the 2017 Nitto ATP World Tour finals semi final clash between world No.2 Roger Federer and seventh seed, David Goffin. The Swiss Maestro is heavy favourite to progress as he bids to extend his record haul of titles in this tournament to seven.