avant-match
LIVE
Free Practice 3
European Grand Prix - 23 June 2012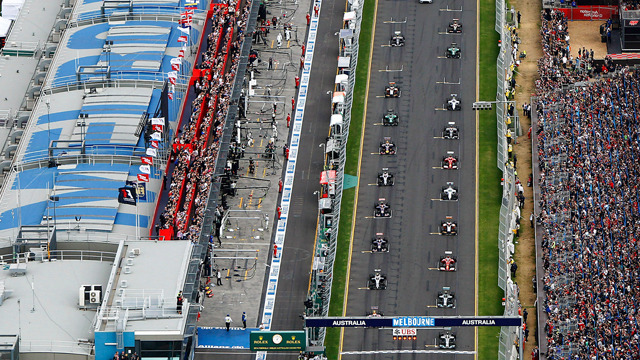 European Grand Prix – Follow this F1 race live with Eurosport. The action starts at 19:00 on 23 June 2012. Our live coverage lets you follow all the key moments as they happen.
Get all the latest on Formula 1: calendar, results and standings.
Join us LIVE for qualifying which gets underway in just two short hours at 13:00 BST (14:00 CET).
And Button's time holds strong. He is fastest in the third practice session.
Alonso and Ferrari haven't had the best of sessions either. The Spaniard comes in 12th. Grosjean finishes in second for now.
But he's struggling on his final lap, poor timing amidst the traffic leading to cold tyres on Turn 2.
Vettel is in the midst of a late attempt to leap to the top of the times. A benchmark time with a single softs effort may influence how the team manages Q3.
Hulkenberg moves one-tenth clear of stable mate di Resta to go fourth. Schumacher up to seventh, Massa manages ninth.
Vettel and Webber are the only two drivers in the garage. The former will come out for a final push on softs but it looks like Webber's FP3 is over.
Button storms top of the pile with 1:38.562, narrowly faster than Grosjean's template.
Alonso locks up heavily going into Turn 12. Di Resta moves into third with 1:38.967.
The Ferraris, Hulkenberg, di Resta and Vergne are all back out too.
Rosberg is weaving around the back of the circuit to generate heat for an attack at the times.
The track is gaining traffic now as pace-setter Grosjean comes out for another crack on soft tyres.
Both Saubers, now fifth and sixth, are warming up for their run on softs.
And he moves just behind his team-mate Grosjean by a tenth of a second with 1:38'759.
Out comes Raikkonen, down to ninth as it stands, on his softs in the Lotus.
Rosberg returns on medium compounds to bring the current on-track driver count to just three with teams preparing for soft tyre action.
Things about to pick up as the onslaught of soft tyre runs looms.
Kobayashi springs into fourth with 1:39.562, ahead of team-mate Perez in fifth.
Remember that about minor works on the Red Bull? Scratch that. Webber is out of FP3 barring a miracle. He has left the car as work continues. It's not looking good.
Senna gets the hang of his softs run after traffic the first time around and moves into third on 1:39.543.
Caterham switch to softs for both Kovalainen and Petrov.
Kobayashi, bottom of the order at the moment, is back on track in his Sauber and has less than 20 minutes to improve a quiet session so far.
Webber is having some minor work on the front of his Red Bull. He is currently 17th in the time standings.
Senna, sitting 15th at present, is back out on soft tyres. Perez moves into third on 1:39.687 on mediums.
Toro Rosso opt for a change of tack as Vergne is out on mediums. He and stable-mate Ricciardo are usually among the first to switch to the option rubber on the Saturday. The move improves Vergne to 16th.
Alonso finally slots into the pack, his first run putting him eighth fastest to begin with.
And he starts well enough, as a 1:38.655 puts him back on top despite Vettel trimming .014 seconds off his own best.
Grosjean heads out on soft rubbers as preparation for qualifying.
Alonso is out in his Ferrari as Massa moves to third on 1:39.772. Hulkenberg, Ricciardo and Vergne are back out as well.
Raikkonen returns to the track with his best time now down to fifth with Vettel nailing a 1:39.448 to move into the lead.
Massa is immediately up to eighth with 1:40.142. Schumacher, di Resta, Ricciardo and Karthikeyan are all in for changes following seven-lap runs.
Just .06 separates the fast four at the halfway stage as Vettel drives to 1:39.823.
Massa has been advised that many drivers have found their best pace on the medium compound on the third or fourth flying lap, and is set to put in his first time shortly.
Massa and Alonso have yet to set a time. They peered out moments ago, but went straight back in.
Schumacher pits despite recording the fastest second sector thus far, not completing the lap.
He goes third with 1:39.911, but he isn't there for long as Maldonado blasts round in 1:39.762 to move top.
Vettel, fastest in the second session, is about to enter his first lap time.
Hamilton now fastest so far, his 1:39.793 besting Raikkonen by just three hundreths of a second.
Rosberg cracks the top 10 as virtually the entire pack of drivers take to the track. Unable to best 1:40, however.
Schumacher goes fifth best in the Mercedes with 1:40'344.
Now Raikkonen goes top of the shop with 1:39'796.
Hamilton sets the fastest first sector but his run through the middle is hampered by a lock-up before a wide run at Turn 17.
Maldonado breaks the status quo, slipping straight into third with 1:40'280.
The new arrivals all find themselves slotting into fourth and fifth with Grosjean holding the early edge.
Hulkenberg goes fourth fastest off the bat with 1:45.302.
Di Resta, Vergne, Ricciardo, Karthikeyan, Maldonado, de la Rosa, Schumacher and Rosberg are now all out on track.
Hamilton squeezes between the two Lotus men with 1:40.324 as the track looks set to build in numbers shortly.
And Raikkonen isn't far behind on 1:40.621.
1:40.136 for Grosjean is the first time on the board.
Lewis Hamilton, winner of the last GP in Montreal, is also out on the track now.
His team-mate Raikkonen now joins him.
And here's Grosjean, the first to get his bid for single-lap pace in his impressive Lotus underway.
The volunteers are cleaning the circuit as much as possible now but we may have some drivers coming out soon.
Alonso and Webber are among those out having a chat with team bosses and tech members awaiting things to proceed.
Maldonado is one of the only drivers to remain in his car.
The circuit is a dusty one, so there could be a bit of a wait for the all-clear signals of each car's race engineer.
Nobody on track at the moment as the data analysts crunch the numbers and the teams plot their outings.
Everyone has returned from installation laps and we await the first time on Saturday practice.
Good morning and welcome to the third free practice session in Valencia, where we are underway.