avant-match
LIVE
Riccione - San Marino
Giro d'Italia - 19 May 2019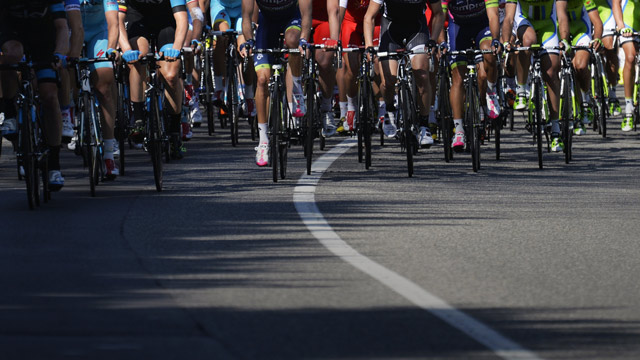 Giro d'Italia – Follow this cycling race live with Eurosport. The action starts at 20:50 on 19 May 2019. Our live coverage lets you follow all the key moments as they happen.
Get all the latest on Cycling: the big races, schedules and results.
Stage result:
Primoz Roglic, Jumbo Visma - 1st
Victor Campenaerts, Lotto Soudal - 2nd
Bauke Mollema, Trek Segafredo - 3rd
This is what the GC looks like. Wow. Just wow. A wonderful ride by Roglic. Great performance by Conti too.
Valerio Conti keeps pink! 3'34" gap. So, that is inside 2 minutes to Roglic now.
This isn't just rain, this could be the next big flood! Where's Noah and his arc? Vile weather. Rojas coming across in the clouds and rain. He won't be taking pink, that's for sure.
Nans Peters will be the new wearer of the white jersey. Carboni losing 5'23" gap.
Here is what the top 10 on the day looks like. I can't see it changing either.
Conti doing a fine job.
We can announce that Primoz Roglic will win today's stage.
Conti is doing an excellent job. He's 2'35" down on Roglic. Looking good to keep pink I think.
He's just pacing this as he needs to, he'll be keeping this for quite a few days if you think about the stages coming up. Conti will start losing times in the mountains but he may hold it there for a day or 2.
This is what the times are like for the main GC contenders
Ah the weather has descended on San Marino again. Amador is just over 2 mins down on Roglic. Good rider, he's very much still up there.
11km to go for the pink jersey by the way. Conti is doing a good job here, but has he gone too deep?
Sam Oomen has lost 3'39"! Nightmare for him, but, he's stilll up there thanks to his breakaway antics earlier in the week.
A very happy Primoz Roglic clenches his fist in celebration.
Bilbao loses 1'33" on Roglic, good ride from him.
I still have the wind taken out of me with that Yates time.
Lopez and Yates have got to be very very active in these next 2 weeks.
Primoz Roglic - 1st - 51'52"! Wow! 1'00" into Mollema and 1'05" into Nibali. Yates losing 3'11"!!!
Gallopin losing 4'10".
Formolo is about to be caught by Roglic!! Ooh my word! This looks amazing!
He could smash Campenaerts here! He has the stage, I'm certain.
Campenaerts looks so disappointed/angry.
Here comes Simon Yates. Ah, this isn't good. He's losing a lot of time!
I think he went way to hard out of the blocks. He is really slipping now. This is a disaster.
3'00"! Over 2 minutes lost to Nibali! That is a huge shock!!
The curse of me picking him for today. I'm so sorry guys.
Lopez losing 2 and a half minutes to Lopez and Mollema! An absolute disaster for the Astana man.
Vincenzo Nibali of Bahrain Merida is coming into the finish. He will not win the stage but he may beat Mollema.
Slower than Mollema! 54" down on Campenaerts. 3rd at the moment for him. That was a wonderful ride from him. He has nearly caught Lopez!
Majka coming to the line, not awful from him, 1'53" down on the leader. Yates has 5km to go.
Jungels is in 5th by the way, not putting much time into the other GC men, Carthy is very close to him, for eaxmple.
Mollema is now 2nd at the finish. 49" down. The rain begins to fall yet again!
Maglia Rosa on the road. Conti is confident he will keep pink.
Nibali has 4km to go. The rain is horrendous now. Hammering it down.
Carapaz coming to the line, faster than Zakarin, 4th provisionally at 1'44" down. That's excellent from the Ecuadorian.
Nibali is 12" faster than Yates now according to the timing.
Yates is 1'39" down on Campenaerts at the 2nd split. Jungels getting closer to the finish. Roglic only has 29" on Yates at the half way stage.
Roglic has taken 17" on Yates, Nibali losing 27". But that is at the first check, it can all change as Nibali is now on dry roads. Geohegan-Hart losing a chunk of time unfortunately for him as he crosses the line.
Nibali putting 30" into the likes of Lopez in the first split. Mollema looking pretty strong on the climb. So many GC men on the road. Yates is putting 10" faster than Nibali.
Oooh a nasty clip there for Yates. Back wheel nearly giving way! He keeps it upright though.
Primoz Roglic is looking to make it another TT stage win, maybe even retaking pink? Can he take that much time?
Lopez losing 30" to Zakarin and Sivakov.
All the big names are out on course. Oomen, Bilbao and Amador are all about to be on the road then it's all about the smaller names who may lose the top 10 position today.
Simon Yates is on the road. Can he do what we all expect of him today? It's going to be hard, but good luck to him all the same. Goehegan-Hart over 2 mins down on Campenaerts at the 2nd check, not going too well for him.
As the bad weather is blown off the mountain and down to the coast, Jungels is quite a long way ahead of the other GC men after the first time check on the flat.
Away from that, have you ever wondered what happens behind the scenes of a TT? You have? Watch this video.
Sun coming out at the top of the climb at the finish as Miguel Angel Lopez sets off in Riccione.
His teammate, Ion Izagirre, has done a decent time, 5th for him for now, he passed his teammate, Hirt, on the line. Davies is still right up there looking solid.
Vincenzo Nibali is on the road! How will the Shark of Messina do in his favourite kind of weather?
Zakarin and Sivakov are putting over half a minute into Landa! Majka has just set off, Nibali, Yates and Roglic aren't far away from riding into the rain.
I have this man down as a possible podium sitter for todays stage, I've predicted that he will finish 3rd behind Yates in 2nd and Roglic in 3rd.
As we wait for the GC men to all get out on the road, here is what Sir Brad, Simon and Brian thought of the first part of the TT up in the studio...
How does Primoz Roglic always look so cool? Even with cotton wool up his nose!
Bob Jungels sets off, maybe the first possible challenger to Campenaerts.
Apologies, Chaves is the Mitchelton Scott rider setting off. The conditions are horrendous now on the road.
Landa has set off, Sivakov now gets underway as well. About half an hour until Primoz Roglic. Carapaz also now out on the road. Nieve after him from Mitchelton Scott.
Tao Geohegan-Hart sets off for Team INEOS now, can he pull himself back into the GC fight?
The Estonian champion is EF rider, Tanel Kangert.
Ion Izagirre seems to be having a real go at this today, the former Spanish TT champ will hope for better after today.
The rain is bouncing off the road now. Awful conditions. Estonian champion sets off.
Caruso in 5th, quite a way down, I thought he would maybe do better.
Durbridge is looking like he's taking it easy today. His leader, Yates, sets off in about 35 minutes!
It is now raining all over the course. Looks like a nightmare on course now. Ben O'Connor sets off for Dimension Data.
Thomas De Gendt coming acorss the line in third over 2 mins down on his teammate, Campenaerts, the European champion hasn't been challenged yet even with that terrible bike change.
Damiano Caruso, Domenico Pozzovivo and Luke Durbridge are all out on course now.
Caruso may do a descent time today, a possible solid top 15 at the end of today perhaps.
Van Emden coming up to the line but he's looking like he hasn't been trying.
Campenaerts' bike change was a right old mess! TT bike on the floor, no push off by the mechanic, unable to clip in, a fan had to push him off in the end, looks like a disaster for him, he still leads comfortably though.
Victor Campenaerts coming to the finish now, he's had a bike change. He's comfortably taking the lead, 52'03" which is 2'26" faster than 2nd place, Davies. Will that time be beaten? I think so.
Ackermann is passing Ewan on the road now.
Apparently Bob Jungels spent two days having a look at this TT, clearly this is a big objective for the Luxembourg national TT champion.
James Knox saying he's feeling better on the bike after his crash. That's good to hear.
Two Brits have the top two. Knox takes 2nd place behind Davies. The rain is really coming down in San Marino now. Nice to hear norther accents supporting Knox on the road.
Scott Davies leads for the moment by over 3 minutes on the next man. It probably won't last, but he should be pleased with his ride.
Here's the details on the climb up to the finish. The full climb profile and from above along with the final 5km profile. Maximum gradients of 11%.
Umberto Orsini of Bardiani will not be riding today. The Italian abandoned this morning. Jos Van Emden is out on course as Campenaerts is on the climb.
Campenaerts goes 19" faster than Bauer and over 40" faster than Davies at the first split before the climb.
A police bike was sat right in front of Campenaerts and the European champion is getting a lovely drafting effect from it, they've now pulled that bike out.
Victor Campenaerts, European and Belgian champion along with the hour record holder is out on the road. He has 27km to go.
Awet Gebremedhin of Israel Cycling Academy may be getting a fine for sitting on Jasha Sutterlin wheel, the German Movistar man has passed Gebremedhin already before the climb.
The battle for 145th in GC... Exciting times.
It looks like it is raining at the finish. The first riders are off the ramp. Sir Bradley Wiggins says that this TT is perfect for Primoz Roglic. He could drag minutes out of some of the big names today.
This climb was used in Coppi e Bartali this year, 14% of the Giro peloton were at that race, so some have a good idea already. Also, Roglic did a recce of the climb after he won Tirreno, so he has a good idea too.
Here is today's stage profile. Riccione to San Marino over 34.7km. I'm really interested to see how this goes down. My pick for today is a bold one, I'm going for Simon Yates.
Now, lets face it, Primoz Roglic is probably going to win today, he may even take pink back... But Simon has shown twice this year, winning in Paris - Nice and 2nd in Bologna on stage 1, that he can time trial really well.
So, I'm hoping the lad from Bury can do well today. Even though I am on the other side of the Pennines in West Yorkshire.
Good morning everyone. It's another individual time trial day. And in true Giro fashion, it isn't easy. Tim Bonville-Ginn here again for the stage, will Valerio Conti keep pink? And how much time can the likes of Roglic put into him going into the rest day?
Well, yesterday, it was the longest stage of the race, described as a mini Milan - San Remo, it was a tough ride but it was the pocket rocket from Lotto Soudal, Caleb Ewan, who came across the line with his arms in the air.