avant-match
LIVE
Tirano - Canazei
Giro d'Italia - 24 May 2017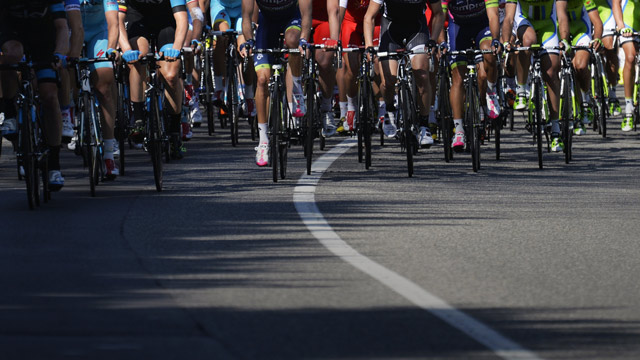 Giro d'Italia – Follow this cycling race live with Eurosport. The action starts at 19:25 on 24 May 2017. Our live coverage lets you follow all the key moments as they happen.
Get all the latest on Cycling: the big races, schedules and results.
16:31
The day belonged to this man, Pierre Rolland, after a maiden stage win on the Giro.
Here's the moment an euphoric Rolland crossed the line for an emotional win.
Confirmation of today's stage result...
The peloton comes home 7:53 down on winner, Rolland. Dumoulin will keep his maglia rosa, Gaviria will keep his maglia ciclamino, Landa his maglia azzurra and Jungels his maglia bianca, despite all the drama today.
Meanwhile, the peloton is still riding as four minutes come up on the board... they have 3km still left to ride... so there won't be any big changes in the GC with Dumoulin retaining his maglia rosa.
Rolland should be applauded for his ride today: he was in the early break, dropped back to join team-mate Michael Woods in the big chasing group, then stayed patient when the attacks came in, making the decisive selection before putting in his own killer attack at the right moment. Chapeau to the Frenchman.
Portugal's Rui Costa wins the sprint for second place for UAE Team Emirates as the chasing group comes home 24 seconds in arrears.
0km
That was Cannondale-Drapac's first Grand Tour stage win since Davide Formolo in the 2015 Giro d'Italia. It's also Rolland's first win since joining Cannondale-Drapac.
Pierre Rolland punches the air and then milks the applause as he crosses the line to take his first ever win on the Giro d'Italia.
Under the flamme rouge for Rolland - and he will win this stage unless something dramatic happens on one of the final bends...
Rolland still has 25 seconds but it will be a long 2km for the lone Frenchman. He's been attacking so frequently but so far to little avail - but today could be the day.
The gradient eases for Rolland now - who could win Cannondale's first WorldTour win on European soil for just over two years.
Van Garderen and Costa have tried to attack but it's coming to nothing. Rolland still has 30 seconds and is about to win his first Grand Tour stage win since 2012, when he won stage 11 of the Tour de France.
Rolland, who broke clear with Brutt and Mohoric at kilometre-zero, has 20 seconds to play with as he passed under the 5-to-go banner.
Rolland now has 18 seconds as a group of 15 riders chase him down. Van Garderen leads the chase, with Woods - Rolland's team-mate - sitting on his wheel, doing his best spoiling tactics. Cannondale are in a very good position here.
Rolland has 12 seconds now - this is a smart move from the experienced Frenchman.
8km
Devenyns puts in another dig - but Sutherland has it covered. Pierre Rolland then puts in a big surge to open up a gap.
Yet another attack from Conti as more riders start to join. It slows down and a new five-man break comes forward: Devenyns, Sutherland, Amezqueta, Woods and Grosschartner. But it comes to nothing again with the other riders returning. Fascinating racing here.
Costa, Van Garderen and Izaguirre have joined Conti, Woods, Busato, Sutherland and Bernard in an eight-man group on the front.
The gradient has ramped up as numerous riders try to join Conti and the other pursuers. Riders all over the road, but Polanc is one of those who are really feeling the pinch... the pack is 6:48 down and so the treat posed by Polanc on the top ten is being neutralised - and fast.
Sutherland and Busato have countered in response to Conti's attack. Woods is coming across too, as is Bernard. It's down to those who have any juice left in the tank after such a debilitating ride - today's winner will very much be the last man standing.
Another attack comes in - this time from Izaguirre - but it's covered by Puccio and it's all back together again. Until Valerio Conti goes again - and this time there's no reaction. Conti came close in that stage won by Izaguirre, but crashed on one of the final uphill bends.
Jan Polanc, the man who stands to gain most today with regards to the GC, is the latest rider to have a dig from this large leading group. It's all strung out but comes back together.
Back to the race and things are really hotting up. Mohoric, after his mammoth ride on the front - he's been out since kilometre-zero - sits up, popped. Omar Fraile, Pierre Rolland, Enrico Barbin and now Valerio Conti all put in attacks - but nothing sticking for now.
A taster of things to come...
Quite wonderful scenery today - not that the riders can sit back and enjoy it, especially now that the race is really on.
That nine-man chasing group I mentioned has now been caught by the pack so it's just those 25 leaders out ahead now, 8:30 ahead of the pack. Quick-Step and LottoNL-Jumbo still lead the chase - that's because their top ten places of Jungels and Kruijswijk respectively are under threat.
So, a reminder of the 25 riders out ahead - thanks to Cyclingnews, who have compiled the list: Rui Costa, Valerio Conti, Matej Mohoric, and Jan Polanc (UAE Team Emirates), Omar Fraile, Daniel Teklehaimanot and Jacques Janse Van Rensburg (Dimension Data), Julien Bernard (Trek-Segafredo), Gorka Izaguirre and Rory Sutherland (Movistar), Fran Ventoso and Tejay Van Garderen (BMC), Jan Barta (Bora-Hansgrohe), Maxime Monfort (Lotto Soudal), Pierre Rolland and Michael Woods (Cannondale-Drapac), Dries Devenyns and Laurens De Plus (Quick-Step), Salvatore Puccio (Team Sky), Jeremy Roy (FDJ), Julien Amezqueta and Matteo Busato (Wilier-Selle Italia), Felix Gorsschartner and Branislau Samoilau (CCC Sprandi Polkowice), and Enrico Barbin (Bardiani CSF).
If it looks flat now then it's misleading: it's going uphill all the way to the finish and we still have 400m to ascend before Canazei, so it's false flat all the way. Back in the peloton, it's the maglia ciclamino of Fernando Gaviria, the quadruple stage winner, who is driving the pace as the gap comes down to 9:20.
Mohoric, who has been in the break since kilometre-zero, is still driving the pace on the front of this break, with Matteo Busato of WIlier-Selle Italia and Julien Bernard of Trek just behind. A massive 7.2km separate the leading group and the peloton - although it's just dropped below the 10-minute mark.
Valerio Agnoli of Bahrain Merida, who was in the original break, has been caught by the Quick-Step Floors-led peloton, who still trail the leaders by 10:08.
There's a nine-man chase group still trying to join the leaders after being tailed off on the third climb of the day. We don't have any time gaps for now but it's quite a few minutes and so they'll struggle to return to the front of the race now.
The gap is about 10 minutes - or exactly 5km - as the pace increases on a short downhill stretch for the peloton. For the leaders, they have just negotiated a little climb ahead of the intermediate sprint, which was won by Teklehaimanot at Cavalese.
45km
UAE Team Emirates drive the pace of the leading group through their trio of Polanc, Costa and Conti. They also have Mohoric, who is taking a bit of a breather after riding on the front of the race for so long - first with Brutt and then on his own. The gap back to the pack is still a healthy 10:42.
50km
Maxim Monfort, who is also in this break, is remonstrating with Polanc. The Frenchman is also a danger-man - he's 14:46 down on GC and so looks like he can rise up today if it stays as it is. Polanc seems to want the Lotto Soudal rider to lend more of a hand.
53km
The LottoNL-Jumbo team-mates of Steven Kruijswijk are also helping with the chase now in the peloton - probably because their man's ninth place on GC is under threat by Polanc, who is in that leading group and is currently riding in virtual third place.
Daniel Teklehaimanot is in this leading group for Dimension Data - and it's worth adding that it's Eritrean Independence Day today, so he could well be extra motivated to make a splash. Further behind, Julien Bernard, Gorka Izaguirre and Omar Fraile are still chasing on to join the leaders. They're about one minute down, with the pack at 11:48.
The acceleration by Devenyns has sparked the leading group into action as numerous riders go hard to reel him in. Jan Barta of Bora-Hansgroghe takes it up. It's a large group of around 25 riders for now - having dropped from the original 40-odd.
Of course, Quick-Step Floors are caught in a bind because they have two riders in the break, which has just seen the first and second groups come back together. Dries Devenyns attacks accordingly - if the peloton is going to start the chase, he might as well go for glory himself.
58km
At last, Team Subweb have some help: following some discussions between Tom Dumoulin, in pink, and Bob Jungels, in white, Quick-Step Floors have thrown men in numbers on the front to help lead the chase - although there are some disputes going on between the two teams. The reason for this is that Polanc is a threat to Jungels two-fold: for the GC and for the white jersey competition. Jungels was 4:35 down this morning.
Mohoric has been caught. We also have some extra riders in this group - Jeremy Roy of FDJ and Enrico Barbin of Bardiani-CSF. The new leading group has 13:13 over the peloton. Jan Polanc is in the second chasing group around 25 seconds back - so it's touch and go for his virtual maglia rosa bid: he trailed Dumoulin by 12:13 on GC this morning.
So, a few changes: Brutt is not in this chasing group - he was caught and passed - and neither is Woods. The Cannondale rider is Rolland, while there are two QuickSteppers in De Plus and Dries Devenyns. They're about one minute down on the leader, Matej Mohoric.
So, we have around 10 riders in the first chasing group: Conti, Busato, Izaguirre, Woods, Van Garderen, Sutherland, De Plus, Costa, Janse van Rensburg and Brutt. So UAE Team Emirates have two riders here, and one ahead, and one in the second chasing group.
It looks like the Giro has a visit from Didi the Devil today... putting in some practice ahead of the Tour de France, no doubt.
Really amazing scenery here in the Trentino region of northern Italy. The Sunweb pace-setter almost comes a cropper on a tight bend - and the reason why they're starting to pedal faster is because Jan Polanc is almost the virtual maglia rosa on the road, what with the pack still 13+ minutes behind.
74km
The Sunweb-led peloton passes over the summit of that Cat.3 climb a whopping 13:34 down on lone leader Mohoric. It's fair to say that they're taking things easy today after the exertion and dramatics of yesterday. That said, things should spice up over the next couple of hours when the road continues uphill to the finish in Canazei.
After a short descent the road is heading uphill again - that's for the leaders, of course; the peloton has yet to reach the summit of the Cat.3 climb, riding as they are more than 13 minutes down on lone leader, Matej Mohoric. The Slovenian leads Brutt, who popped on the climb, by over a minute now, with the first chasing group at five minutes and the second group closing in just behind.
80km
FLASHPOINT: Nairo Quintana almost comes a cropped when throwing a bidon to the side of the road, losing balance and hitting a wall on the side of the road. He's ok, but that could have been embarrassing...
Matej Mohoric crests the summit of the climb to take maximum points over the last categorised mountain of the stage. Behind, Woods, Busato and Conti have joined Izaguirre, but they're all being dragged back by the other riders in the first chase group as they too approach the summit.
Salvatore Puccio is leading the chase in the first group, cutting the gap to 3:40 behind lone leader Mohoric. That is, until Gorka Izaguirre puts in an attack to ride clear for Movistar. Remember, he won a stage in the second week of the race. Two riders have jumped clear in pursuit.
BRUTT HAS POPPED! The Russian veteran is pedalling squares and asking for water - he's clearly hit the wall. He's clocked up more breakaway kilometres than anyone else in this year's Giro - and it's all clearly catching up with him.
There's been a split in the chasing group with Costa one of the big-name riders to have missed out when the hammer went down on the climb. The Portuguese is in a second group of around 12 riders chasing back to join the first chasing group.
The two leaders hit the start of the Cat.3 climb to Giovo, a short 6km climb that comes in a series of steps and peaks out with a maximum gradient of 12%.
Into the feed zone for the chasers, who trail the two leaders by 4:30. They've got themselves organised a bit and so things look a bit better for them. UAE Team Emirates hold all the aces with one man up the road in Mohoric, and three men in this break with Costa, Polanc and Conti. Four very strong riders, it's worth adding. The pack is now 12 minutes back.
The defending champion, showing a hint of dryness and just a modicum of sarcasm, continued: "I'm very straightforward: I never expect anybody to wait for me when I stop. Many times, I've fallen or punctured and just set off again. I don't know, maybe we could distort cycling and have a referee who stops the race in front and behind ... I don't know what to say. This is my opinion, even if many people might attack me for saying this." It's worth remembering that it was Nibali who attacked Chris Froome a couple of years ago in the Tour after the yellow jersey had a mechanical on one of the climbs. Like yesterday, it resulted in Nibali winning the stage as well. Sometimes being ruthless pays off.
Yesterday's winner, Vincenzo Nibali, is pretty adamant that he was not in the wrong to up the tempo yesterday when Dumoulin was, ahem, taking a dump. "It was the finale of the stage and it was difficult to say if we should stop or not. It wasn't a crash but a problem that was maybe linked to a bad feed on the descent or not being properly covered up on his way down. In the history of cycling, there have been lots of incidents like this. I remember Peter Sagan having a similar problem at the Geelong Worlds and nobody stopped to wait for Peter Sagan."
Brutt, the veteran, and Mohoric, the youngster, continue combining well as they zip down towards the feed zone and see their lead increase to over 11 minutes.
Tom Dumoulin, who doesn't look to have any stomach problems again today, has six Sunweb team-mates with him on the front of the pack, which trails the two leaders - Brutt and Mohoric - by a huge 10:35, with the chasing group of 41 riders right in between at 5:10. After this next drop to the lowest point in today's stage (just 210m above sea level) we have the next categorised climb to 615m and then the road gradually rides all the way up to 1442m at the finish in Canazei. With the pace so high, things could blow apart in the tough final third.
The two leaders are approaching the first intermediate sprint with a gap of 4:55 over the disorganised chasing group and 10 minutes over the peloton.
Ah, interesting... I failed to notice that Jan Polanc is in this break - so it's him, the winner on Mount Etna in stage four, and not UAE Team Emirates team-mate Costa, who is the best placed rider on GC in this large chase group. The Slovenian is 12:13 down on Dumoulin in 13th place, so he stands a good chance of rising into the top ten if things stay as they are... Maxim Montfort of Lotto Soudal - 15th at 14:46 - is also in the 41-man group, and so he's another danger man for those with top ten aspirations.
Sunweb begin to up the tempo a little with the lead of those two escapees nudging above nine minutes.
130km
As far as I can see, former world champion Rui Costa of UAE Team Emirates is the best placed rider on GC in this large chasing group - and the Portuguese is 39:07 down on Dumoulin in 23rd place, hence the lack of reaction from any of the big GC favourites today.
The riders have completed the steep section of the Tonale descent and are now on the gentler drop towards the intermediate sprint at Cles. Brutt has joined Mohoric on the front of the race, while it appears that Rolland is happy to drop back to join team-mate Woods in the chasing group at 3:25. Meanwhile, the peloton rolls along - piano, piano - at 9:40.
Cyclingnews.com have revealed a full list of this 40-man chase group: Valerio Agnoli (Bahrain-Merida), Ben Gastauer and Quentin Jaurégui (Ag2r La Mondiale), Jesper Hansen (Astana), Enrico Barbin and Lorenzo Rota (Bardiani-CSF), Tejay Van Garderen, Manuel Senni, and Francisco Ventoso (BMC Racing), Jan Barta and Jose Mendes (Bora-hansgrohe), Felix Grosschartner, Lukasz Owsian, Branislau Samoilau and Michal Schelgel (CCC Sprandi Polkowice), Michael Woods (Cannondale-Drapac), Jérémy Roy (FDJ), Maxime Monfort (Lotto Soudal), Gorka Izagirre and Rory Sutherland (Movistar), Christopher Juul-Jensen (Orica-Scott), Laurens De Plus and Dries Devenyns (Quick-Step Floors), Natnael Berhane, Omar Fraile, Jacques Janse Van Rensburg, Kristian Sbaragli, and Daniel Teklehaimanot (Dimension Data), Martijn Keizer (LottoNL-Jumbo), Salvatore Puccio (Team Sky), Simon Geschke (Team Sunweb), Peter Stetina and Julien Bernard (Trek-Segafredo), Rui Costa, Valerio Conti and Jan Polanc (UAE Team Emirates), Julen Amezqueta, Matteo Busato and Ilya Koshevoy (Wilier-Selle Italia), and Sergey Firsanov (Gazprom-Rusvelo).
Nairo Quintana's Movistar have Gorka Izaguirre and Rory Sutherland in the chase group, Tom Dumoulin's Team Subweb have Simon Geschke and Vincenzo Nibali's Bahrain Merida are represented by Valerio Agnoli. So the race favourites have men there, which could come into play later on.
Mohoric, the lone leader, has 14 seconds over Brutt while Rolland, a notoriously dodgy descender, is almost a minute back. The chasers are 3:30 down and the peloton is nine minutes in arrears.
Matej Mohoric has broken clear of Rolland and Brutt on the descent of the Tonale. Behind, all 22 teams with the exception of Katusha-Alpecin have riders represented in the break. Some notable riders in the move include Michael Woods (Cannondale-Drapac), Sergei Firsanov (Gazprom-Rusvelo), Omar Fraile and Daniel Teklehaimanot (Dimension-Data), Valerio Conti and Rui Costa (UAE Team Emirates), Fran Ventoso and Tejay van Garderen (BMC) and Salvatore Puccio (Team Sky).
Over the last summit the gap back to the peloton swelled to the best part of nine minutes - primarily because none of the riders in the large chasing group are any significant threat on GC. This may mean that we see two races today - for the stage win, and for the maglia rosa.
Rolland doubled up after 60km when leading the three-man break over the Cat.2 Passo del Tonale. The Frenchman was on 26pts in the maglia azzurra standings this morning, so he's still somewhat shy of Mikel Landa's leading tally of 124pts. Landa, the Basque climber from Team Sky, won the Cima Coppi over the Stelvio yesterday, and then added maximum points over the Umbrailpass before finishing runner-up on the stage behind Nibali.
Pierre Rolland picked up maximum points over the Cat.2 climb to Aprica ahead of Mohoric and Brutt, with Russia's Sergey Firsanov (Gazprom-Rusvelo) leading the chasing pack over the top 1:50 in arrears.
Let's run you though what's happened so far in this stage - with two of the three climbs now completed, and the road hierarchy clearly established.
We now join the stage LIVE with those three escapees holding a 2:15 lead over a large chase group of around 40 riders. The peloton - which is being led by the Sunweb team-mates of maglia rosa Tom Dumoulin - is a further 3:15 back.
Frenchman Pierre Rolland (Cannondale-Drapac), Russia's Pavel Brutt (Gazprom-Rusvelo) and Slovenian Matej Mohoric (UAE Team Emirates) were the riders who engineered the move - and the gap grew quickly once they hit the first climb to Aprica after a short downhill run to the foot of the hill.
168 riders rolled out of Tirano at the start of today's stage under slightly cloudy skies - and there was an attack pretty much from the outset.
And what scenery at Tirano, the start town, too...
Here's what the riders have in store for this, the "easiest" stage in the final week of the Giro.
Nibali became the first Italian stage winner of the 100th edition of the Giro after beating Spaniard Mikel Landa in a two-way sprint in Bormio – but all eyes were on Dumoulin, whose overall lead was slashed to 31 seconds after an enforced comfort break ahead of the third and final climb. Following his win, Nibali also rose to third place at 1:12 after a day of drama in the high Alps.
Yesterday, Tom Dumoulin was down in the dumps, Movistar and Bahrain Merida sniffed out an opportunity, the Dutchman fought back and dropped like an anchor on the final descent to Bormio to retain the pink jersey, and Vincenzo Nibali smelled the sweet whiff of success. Right, got that all out of the system... Here's the full report.
Tom Dumoulin lead slashed after toilet break as Vincenzo Nibali wins Stage 16
12:00
Hello and welcome to live coverage of stage 17 of this increasingly fascinating Giro d'Italia - an intriguing 219km ride from Tirano to Canazei that features just the three lower-category climbs, but a long uncategorised uphill drag to the finish where many an ambush could be sprung.